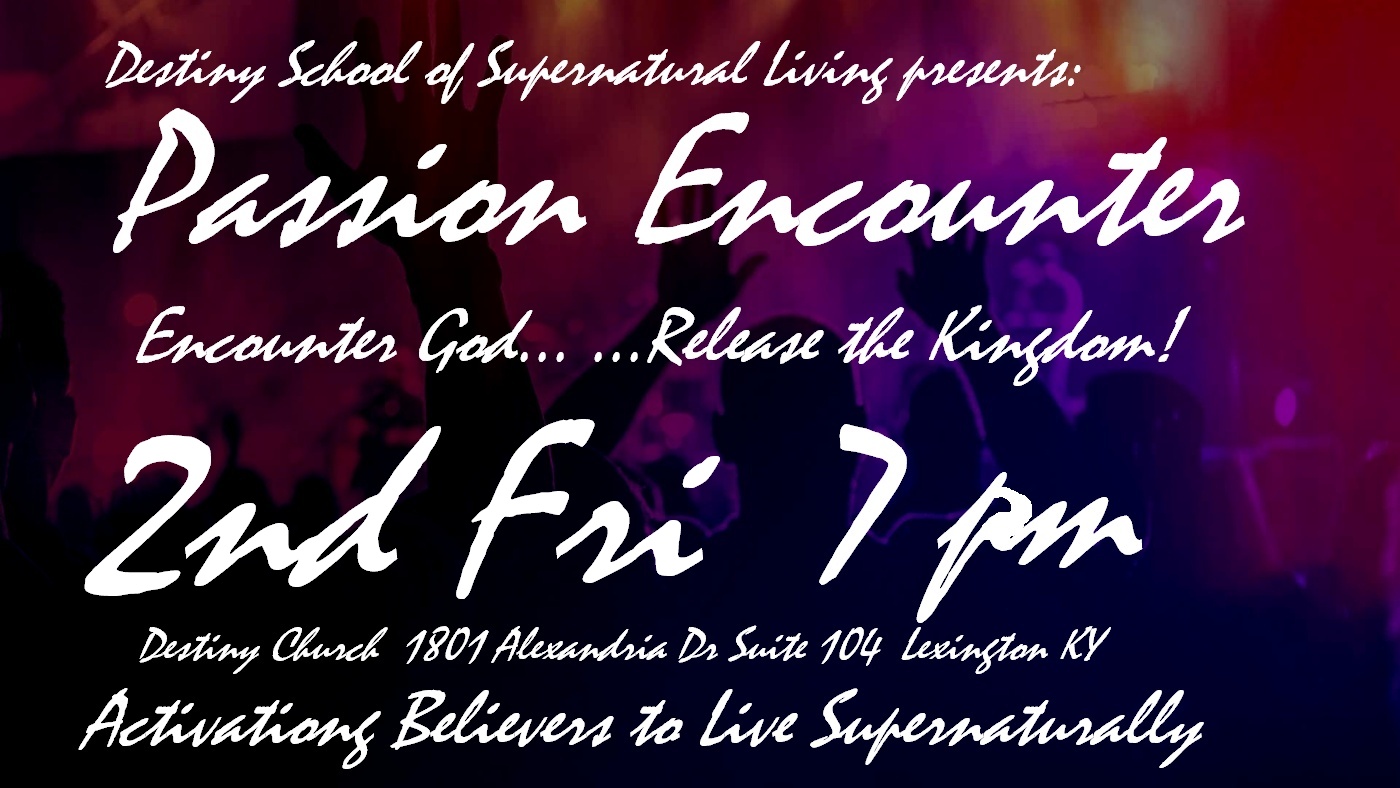 2nd Friday of Most Months
The Passion Encounter is when we gather to encounter God through prophetic worship and unleash the Kingdom through supernatural ministry!  Whether you need a touch from God or desire to activate the gifts within, you are welcome!  We have finished our 2019 schedule – stay tuned for our 2020 dates!
What to Expect ...
The Passion Encounter is where the love of God manifests through the power of God.  A part of Destiny's School of Supernatural Living, it provides demonstration and activation in Spiritual gifts.  Everyone is a participant, and an open microphone facilitates sharing from all attendees.  Every Encounter night includes:
Passionate Worship
Corporate Encounter
Supernatural Demonstration
Body Ministry
Destiny School of Supernatural Living
As an equipping center for the Body of Christ, Destiny is committed to raising up believers who know Jesus and know who they have been created to become so that they can carry the power and message of the Gospel everywhere God sends them.
Our School of Supernatural Living has 2 components:
Equipping Night

– 1st Friday of every month is dedicated to revelational teaching and personal mentoring in supernatural ministry through Q&A and activations.

The Passion Encounter

– 2nd Friday of every month is dedicated to inspiring passionate followers of Jesus through worship, encounter, supernatural demonstration and Body ministry.
Destiny has offered Bethel's curriculum for the School of Supernatural Ministry in the past.
Facilitator: Gerry Morford, Destiny Elder
Gerry has a hunger for both worship and the supernatural manifestation of God's Kingdom.  He loves to bring worshippers, leaders, and people together to experience God in miraculous ways.